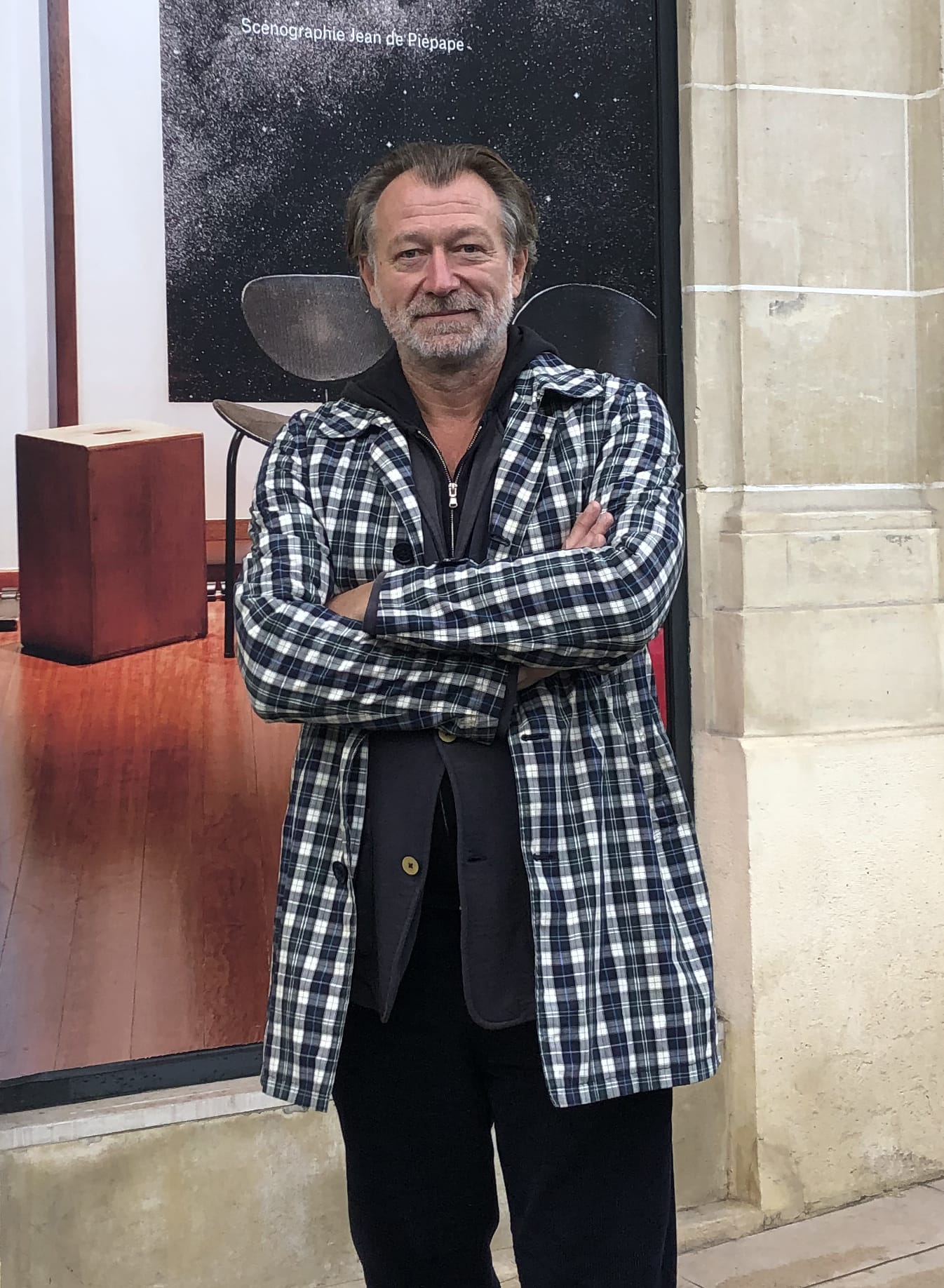 Event design : exhibition architecture and scenography, stands and showroom for galleries, museums, art centre and foundations. General fair design.
Object design : furniture editions, unique pieces and custom special orders.
Interior architecture : prestigious houses and apartments and galleries, offices.
JEAN DE PIÉPAPE
Designer, scenographer and interior designer, Jean de Piépape has been creating projects for customers for more than 25 years in France and abroad, most by collectors or gallery owners. His aesthetic writing intimately linked to artistic creation is contemporary and timeless. From the constraints of the order and the requirements of its customers are born unique, rigourous and architectural projects. Through his training in Decorative Arts in Communication, he offers professional clients communicating designs, echoling their brand image.
STANDS and FAIRS
At the most important art and design fairs such as Tefaf Maastritcht, Design Miami Basel (Art basel) or Frieze Master, the Piépape agency stages contemporary and classic masterpieces by these internationally renowned gallery owners: Laffanour-Downtown gallery, Demisch Danant, Twenty First gallery, Chastel Maréchal gallery, L'Arc En Seine gallery, Perrin or De Jonckheere gallery.
We have recreated the general design of the Design and Arts Pavilion (Pad Paris and HSBC).
EXHIBITIONS
For these same customers, Jean de Piépape has scenographed many monographic exhibitions by artists, designers and architects such as Charlotte Perriand, Ron Arad, Ettore Sottsass, Le Corbusier, Pierre Jeanneret, Maria Pergay, Kristin Mckirdy, Pucci Di Rossi, Richard Texier, Choï Byung Hoon, Joy de Rohan Chabot, Jacques Dumond, Thierry Geoffroy/Colonel…
GALLERIES
Throughout the last fifteen years, the Piépape agency has also specialized in the design of galleries and exhibition venues bringing its aesthetic and technical expertise. For example, Carpenter Workshop gallery, Laffanour-Downtown gallery, Perrin gallery, Arc En Seine gallery or De Jonckheere Fine Art or Dansk Mobel Kunst gallery.
INTERIOR ARCHITECTURES
Pieds à terre, apartment in Paris for art lovers, chalet in the mountains, luxury house in Switzerland, Italy, the agency creates and advises from all the interior to the garden. The desires of our customers are at the heart of our limitless creativity.
DESIGNS AND FURNITURE
The design of art furniture, furniture and home accessories is one of the agency's very creative poles. Bronze tables, marble chairs and lights, all-steel bookcases, stainless steel reception bank, coat rack, handrail, door handle, unique stainless steel toilet, silicone digital clocks, sandblasted pine chairs, creations in the field are made in small series, often custom-made and as a single piece.
THE TEAM
Jean de Piépape's team is composed of passionate and qualified collaborators. Depending on the projects, we call on many trades who bring their expertise and know-how. The heart of the agency's creative process is for most projects through the use of models. This method allows them to work quickly, offers customers an almost immersive experience in their future homes, exhibitions or stands.
REFERENCES clients professionnel :
Galerie François Laffanour Downtown, Paris
L'Arc en Seine, Paris
Le Chalet Mont Blanc, Chamonix
Carpenter Workshop Gallery, Paris Londres NY
Galerie Perrin Antiquaires, Paris
Galerie Chastel Maréchal, Paris
Galerie De Jonckheere, Bruxelles Genève Monaco
Galerie de Souzy, Paris
Galerie Dansk Mobelkunst, Copenhague
Twenty First Gallery, New York
Keitelman Gallery, Bruxelles
Galerie Pierre Marie Giraud, Bruxelles
Christie's
Sèvres Cité de la Céramique, Boulogne
Roubaix La Piscine, musée d'art
et d'industrie André Diligent
Pavillon des Arts et du Design/HSBC PAD Paris/Londres
Macula, Genève Paris
SFP
Thierry Geoffroy/Colonel, Copenhague
Villa Stuck, Munich
PS1 MOMA, New York
Laurence Phitoussi Communication, Paris
Blue Seven, Paris
Orange
NOM DES ARTISTES SCÉNOGRAPHIÉS
en expo personnelle, extrait :
Jean Prouvé, Charlotte Perriand, Pierre Jeanneret, Le Corbusier, Ron Arad, Ettore Sottsass, Pucci di Rossi, Choï Byung Hoon, Jacques Dumond, Joe Colombo, Maria Pergay, Joy de Rohan Chabot, Bob Wilson, Thierry Geoffroy, Richard Texier, Laura De Santillana, Prince Félix Youssoupoff, Georges Nakashima, Kristin MacKirdy, etc…
NOM DES ARTISTES SCÉNOGRAPHIÉS
en expo de groupe, extrait par galeries:
GALERIE LAFFANOUR-DOWNTOWN
Jean Prouvé, Charlotte Perriand, Pierre Jeanneret, Le Corbusier, Jean Royère, Pucci di Rossi, Choï Byung Hoon, Gaetano Pesce, Takis, Serge Mouille, Ettore Sottsass, Luis Barragan, Ron Arad, Isamu Noguchi, André Bloc, Georges Nakashima, Carlo Molino, Gio Ponti, Joe Colombo, Alexander Noll, Gino Sarfati, Archizoom, Richard Texier, Bob Wilson, Ingo Maurer.
GALERIE DEMISCH DANANT
César, Sheila Hicks, Pierre Paulin, Jacques Dumond, René-Jean Caillette, Joseph-André Motte, Antoine Philippon et Jacqueline Lecoq, Michel Boyer,Louis Sognot, Francis Jourdain, Maria pergay, Roger Talon, Pierre Guariche, Philippe Hiquily, Michel Guino, etc…
GALERIE L'ARC EN SEINE
Dupré-lafon, Jean-Michel Frank, Giacometti Diego et Alberto, George Jouve, Ruhlmann, Pierre Chareau, André Arbus, Laura De Santillana, Prince Félix Youssoupoff.
GALERIE PERRIN PARIS LONDRES
Hubert Robert, Thomas Hope, Louis Moreau Jacob-Desmalter, Louis-Jean-François Lagrenée, Robert le Lorrain.
GALERIE CHASTEL MARÉCHAL
Serge Roche, Line Vautrin, Pierre Paulin, Lionel Lebovici, Ettore Sottsass, Jose Zanine Caldas, Joaquim Tenreiro, Claude et François-Xavier Lalanne, Joy de Rohan Chabot, Max Ingrand, Eugène Printz.
GALERIE DEJONCHKEERE
Peter Brueghel le vieux et le Jeune, Francesco Guardi, Lucas Cranach Le Jeune, Jan Mandijn, Jan van Kessel, Corneille de Lyon.
GALERIE DE SOUZY
Bernard Buffet, Victor Vasarely, Jean-Gabriel Domergue, André Lanskoy, Salvado Dali, Yves Klein.
GALERIE KEITELMAN
Monet, Magritte, Max Ernst, Paul Delvaux, Man Ray, Pierre Soulage, Joan Miro, Lucien Hervé, Franck Stella, Lisette Model, Ron Gilad, Claude Cortinovis, Mounir Fatmi.